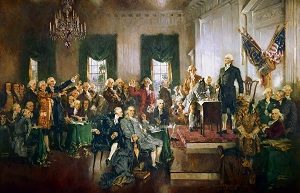 Well, you all know what the atmosphere is in the United States right now with Trump's team arrival to the steering wheel. The controversial views and statements of the new president confuse a great deal of people because of their nature and possible consequences. Many fear that with Donald Trump being in chief, some of Obama's achievements are in danger (especially the ObamaCare Act which is so important for students as well). But, fortunately, the US people have the constitutional law and the Supreme Court that control the processes of governmental changes and law making. They turn constitutional changes into quite a challenge for the new governor.
But, as in many other great states, these law bodies are not perfect either. If you've decided to write an analytical essay on constitutional law, you have to first come up with a topic that is:
Relevant;
Up-to-date;
Researchable.
And it's not that easy because everything that is connected with this governmental body is complex and uncertain.
But you are not alone in this – we've prepared 16 thought-provoking topics for a great analytical paper so that you could find your bearing in a huge pool of information.
The First Amendment to the United Stated Constitution and Its Possible Misinterpretation
The Right to Petition: an Illusion of Influence or a Really Working Tool to Appeal to Government?
Killing FCC Privacy Rules: Why Are People Not Happy About It?
Your Stand on Freedom to Read Banned Books: Yay or Nay?
Trump Blocking Users on Twitter – a Breach of the First Amendment?
The Fifth Amendment and Its Significance for White Collar Crimes
Trump and His Attempts to Control the Religion of Refugees by Putting Them "Under the Religious Test"
Johnson Amendment and the Blurred Line between the State and the Church
The Potential of Genetic Information Usage: Does It Need Protection?
Anti-LGTB Bills in 2017 in 29 States – a Shift in Federal or Just State Policies?
Transgender People Banned from the US Army
2017 March for Women as an Opposition to Trump and His Anti-Feminist Statements
Charlottesville, Nazi Racism and Government Reaction to the Events
The Freedom of Hate Speech and the Supreme Court Support
Muslim Immigration Ban as a Means of Protection from Terrorist Attacks
Who's Going to Win: Civil Liberties' Plan to Sue Donald Trump
These issues are very burning right now because the new regime is trying to impact the most sensitive issues in the American society and people are not happy about it. These new bills, laws and bans are all connected with the constitutional law and human rights, and while some of them are protected by the government, a great deal of them are constrained in the open.
Writing an analytical essay about the constitutional law is interesting, challenging and timely. Go through our suggested topics, choose the one that you feel most steamed-up about and create a great paper that will impress your supervisor.