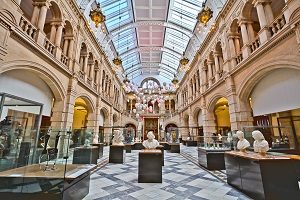 History does not have to be as dry as everyone thinks it is! If you've been assigned a college research paper on history, there are some ways to spice it up and make it fun, before you start writing. If you actually do these things, it will improve your essay, since you are more involved in the topic. Some are a bit more feasible than others, but do what you can!
1. Visit a New Country or City
Of course, it is quite easier to say than to do, but if you can make it happen, then go for it! If your paper concerns a historical event or a place, then the best research you could possibly do is to go and sightsee there. Make a day out of it, or an entire week to really get a feel for what life is like now compared to what it was in the past.
2. Visit Historical Sites within Your Own City
Get inspired by taking a trip to historically significant places in your hometown. In this case, you are going to learn things that you have not known before about the place you have been living for the whole your entire life! It adds a great personal touch to your research and you can take friends to enjoy it with you.
3. Go to the Movies
Although you may not be able to go to the actual cinemas to see a film based on history, because there are none currently out, you can create your own movie theater at home. With a little digging, you can find a documentary or an interesting production based on a true story or era. Make some popcorn, take a seat, and enjoy!
4. Go to a Museum
Most people tend to think that museums are boring. As long as you change your mindset then you will have a lot of fun. There are so many interesting museums filled with intriguing information. Taking a child with you will potentially make it super exciting, plus you'll get lots of notes for your paper.
5. Check out the Library
The library is the perfect place to go to find out some information. Contrary to what you believe, not everything is useful that can be found on the Internet. Going to the library will allow you to find some potentially essay resources. After you've found what you need, the library is the perfect place to get a good start on your essay.
By choosing one of these creative place to help you with a paper handling, your history research piece will be taken to the next level, because it will have an element that many college papers do not have: personal insight, investment, and experience. You are sure to get a high score on this one!