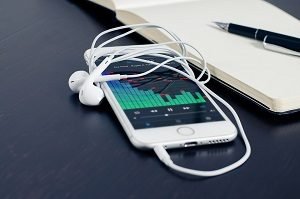 Music makes this world a better place. Do you agree with that? Imagine you're having the first date hoping for a kiss or walking to the class with no assignment done, the right tune – either a new or long forgotten song – can evoke your mood and work magic with your academic progress, the gym activity and the relationship with your SO.
If every day in your college life begins with music and listening to it motivates you to do better or gives you a fresh eye while making important decisions, then check out the list of the songs that turn any writing trap into an interesting adventure.
How can it serve you? Well, it's a perfect song for a late-night studying. Even if you're not a huge fan of "Fifty Shades Freed", the soundtrack is still catchy and inspiring, and Rita Ora has a soothing voice that could set your mood to hard work. The pop ballad is one of those songs that you can have on in the background working on the topics closely related love:
Ways to Distinguish Love from Hate;
Is Love a Mental Disease?;
Discuss the Importance of Trust in Love;
The Dependency of Love: the Challenges of the Paradox;
Freud's Concept of Love: the Aspects of the Relationship Dynamics or any other topic you choose to dwell upon.
If rap is a real music to your ears, then the song by an American rapper, Kendrick Lamar, and an American recording artist, SZA, is what recommended by a doctor. The song is a perfect soundtrack for being active and feeling positive. It's also a great song to listen to in order to be more efficient with your narrative essay topics such as:
My Most Disastrous Day Ever;
The Moment When I Realized I'm Experiencing a Historic Event;
5 Individuals Who Inspire Me;
The Long-Lasting Passion of Mine;
My Random Act of Kindness or anything else that describes your life journey and how you dealt with it.
This is a great and catchy song that can motivate you to show your college tutor that's you're not afraid of dealing with the serious written assignments and the most complex topics! Without a doubt, no song has summed up the time we live in more concisely – without mentioning any name of the world leaders – better than this American indie rock band. The quick and intense observation of the world that we live in will become a perfect muse for those working on the serious topics on social and historical events:
Industrial Revolution in England: How and Where?;
Hitler's Rise to Power: the First Steps of a Fuhrer;
Suicide and the Social Media: What's the Connection?;
The Dark Ages Era: What It THAT Dark?;
Separation of Church and State, etc.
Ah…the oldies! There's nothing wrong with the new music that's popular at the moment. But there's so much more to discover out there and the oldies lovers can prove it. Any study session would become more bearable if you get stuff done with MC Hammer in your earphones! Start writing essay on the following topics:
A Day Without any Rules. What would it be?;
What Activities are Able to Motivate People;
Music is Food for the Soul;
What Age is Appropriate for Dating?;
Generational Differences in Attitudes towards Music.
How about a quick dance? According to "The Health Benefits of Dance" research by Patricia T. Alpert, dancing can help you lose weight and boost your health. But what is more, dancing is fun and relaxing! You'll probably also want to sing alone to MC Hammer and that's a good thing to do! And even if it doesn't help you to somehow move forward with the assignment, no matter how it's tough, it won't bring you down.
Now that you know what songs can encourage you, enjoy greatly your work on essay writing. Our custom writing service is also a source of your inspiration for writing great essays at an affordable cost. You are welcome to take what steps you please.