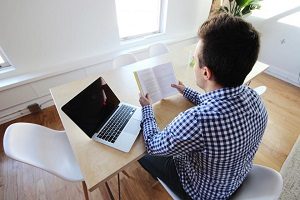 People all over the world are interesting what is a content writer. It was caused by the fact that people knew that somebody is filling websites of different companies and organization in order to help people to understand the field of occupation of the specific company.
Therefore, people are interesting what is a content writer and what are his or her duties. People may be interesting in some facts of working process of content writers. However, there are also a lot of people that are not aware of the fact of the existence of content writer, so this paper will be interesting and useful for them.
Content Writer in a Nutshell
A content writer is a person that is writing content for different websites of different companies. Such people have to be aware of all the processes that are taking place in a company and inform customers about it. Likewise, content writers have to write examples of services that a company affords. A content writer has to be proficient in the field of a company's occupation because his or her main task is to show people all the capabilities of a company in a simple way. Therefore, a content writer can be considered as a person that is entertaining customers.
Writing Skills Required
The writing skills of a content writer must be well developed and he or she should also be aware of the variety of writing styles. That means that the content writer should understand how he or she should write specific information. For instance, there are topics that need to be written in a short form and just inform people about something, while there are also some topics that need a long writing and they should not only inform people about some processes, or events, but they also have to explain all the information.
Originality is a Must
That is very important for a content writer to write unique texts because people are not interested in reading same things twice. By being an original a content writer is increasing his or her chances to be successful. A content writer has to show people his own point of view regarding different topics, but the main idea is the fact that his or her opinion has to be original. That is not hard to reach because every single person is able to notice something that people had not noticed before. Likewise, a content writer is able to expand an idea of other writers and bring something new to a specific topic.
Successful Writing – What is It?
People are sure that it is not hard to sit at home and write content, such as a description of some products. However, people are not aware of the fact that some content writers are dreaming of becoming great writers of their time one day. Those people were not able to write good works, therefore, they decided to develop their skills by writing content. There is no need for such writers to give up because that person has to work hard, develop his or her skills as well as imagination and one day he or she will be able to become a great writer, but the content writing is a great opportunity for them to become more professional.