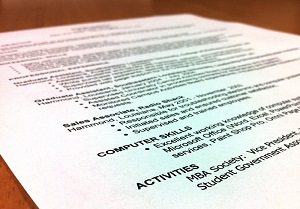 There is no doubt that today, it is extremely important to know how to make resume in order to find a good job. As such, composing a professional resume is among the most effective ways for searching a job. It is a summary of the biographical facts for a potential employer, mainly related to skills, knowledge, as well as work experience. Usually, the employer spends only a few minutes to read a resume, so it is crucial to promptly draw the attention of the employer, interest him or her, and encourage to assign an interview. When creating a resume, it is essential to remember that it will become a calling card and, thus, it must allocate you of the total flow of people who looking for a job. Hence, it is crucial to know all the crucial steps of how to make resume.
The Structure of a Resume
First of all, a resume should contain all the relevant contact and personal information. Secondly, it is needed to indicate a purpose, which includes a brief description, to which position the person is applying for and why. If there are several different purposes, it is better to make two or three options of a resume. Besides, it is preferable to make a few resumes focused on different aspects instead of one general. Next, it is important to specify the qualification that briefly indicates the most significant for the potential employer professional skills, strengths, and achievements. Then, it is crucial to indicate work experience in reverse chronological order. This is the most important unit of a resume, which describes the experience, as a rule, for the past 10 years. Eventually, it is needed to indicate education, additional information, as well as recommendations.
What is Not Necessary To Write in a Resume
It is not necessary to list the entire working career, as in fact, the potential employer is only interested in the last 3-5 jobs and a period not exceeding 10 years.  Besides, there is no need to indicate such things as physique, description of health, as well as weaknesses. One more crucial aspect here is that it unnecessary to mention the reasons for leaving the previous jobs. Finally, there is no need to indicate letters of recommendation or names of people who can recommend you. For that purpose, it is needed to prepare a separate list, as it may be useful during the interview.
How the Resume Should Look
First of all, a resume should be structured. All the information in a resume should be provided in a specific sequence and in accordance with the selected form. While thinking over a resume, initially, it is needed to define its purpose, and decide what kind of job you are looking for. In turn, a selective approach will help to eliminate an excessive and unnecessary information from a resume. While describing own experience and skills, it is crucial to be realistic and objective, because it is needed to be ready to justify everything that is indicated in a resume. Finally, the volume of a resume should not exceed two pages, so information should be summarized, focusing on the most important and significant moments for the employer.