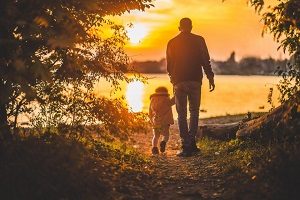 Writing an essay about father seems a simple assignment at first sight. However, it may become a challenge to find out how to write about my father since there is so much information that can be included into the essay and you may simply do not know from where to start. Nevertheless, following simple recommendations for preparation coupled with thoughtful composition may turn searching the way how to write about my father into an interesting experience that you would enjoy.
Making Notes before You Start
Before starting the writing process, it is advisable to take several minutes for thinking of the most important moments you would like to write about in the essay. You probably should mention some facts from your father's biography such as the place of birth, his appearance, education, achievements, and work. Take your time, reserve a pen and a list of paper and make some notes. These notes will be used as an outline for the whole essay. Think of your father's disposition, personal qualities, preferences, and hobbies. Frankly speaking, you may mention all the things about your father that on your opinion matter. You can write how your father met your mother, where did they spend their honeymoon, which father's traits do you admire or what did he teach you. This is only a short list of things you may wish to include in the essay. Surely, you may remember other details you would like to mention directly during the writing process. However, these notes will become the raw draft of your future paper.
Writing the Essay
Having made the notes, you may start writing about you father. You can decide where to begin, from the childhood or more recent times. No matter what option you chose, try to include as many emotions as you can into your narrative. Use your creativity and imagination as you write the essay. For instance, you may narrate a story from the past as you spent time with you father while he was teaching you how to drive a car. You may also refer to some funny moments that once occurred with your father. An interesting essay about father should include more that just a brief biography. For example, Luke Skywalker from famous space saga Star Wars may mention in addition to details from the biography of his father Anakin Skywalker the way his father chose the dark side of the force. Furthermore, there are a lot of interesting events from the life of Anakin Skywalker such as the battle with Obi-Wan Kenobi, his becoming as Darth Vader, and the moment Luke found out that Vader was his father. Moreover, numerous achievements of Darth Vader should be included in the narrative such as the war with the Rebel Alliance, active participation in the construction of a Death Star and many other. Moreover, Luke may mention the telepathic connection with his father and the power he was given. Finally, despite being on the dark side of the force, Vader sacrificed himself to protect Luke from the Emperor's lightning. Although this is not the best example of good relations between a father and his son since Darth Vader once cut off Luke's arm, it shows that the task to write about my father may be entertaining.
Conclusion
To conclude, a narrative about father should not be limited to mentioning facts from the biography. Instead, you should try to write an essay that would portray your father as you see him. With a simple preparation, writing about father will become an entraining experience filled with positive emotions and joy.